How Do You Prepare Vegetable Soup? Here's one way to do it!
By Moderator | 2 September 2019 | Food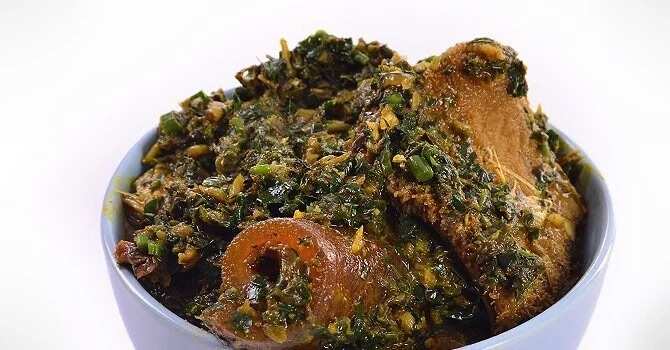 Image Source: LegitNg
1. Place an empty pot on fire.
2. Turn down the fire till it is almost out.
3. Place chopped pieces of roast pork in pot.
4. Add chopped green vegetables (ugwu).
5. Mix both pork and vegetables together with a wooden spoon or stirring stick.
6. Cover pot and slightly increase flame such that the contents do not burn.
7. If the quantity of vegetables is much, allow sufficient time for shrinkage such that there will be room for a few more ingredients.
8. Add Knorr cubes to taste. Use in place of salt.
9. Add unground crayfish.
10. Add curry and thyme.
11. Add ground "Cameroon" pepper.
12. Cover pot and allow soup to steam sufficiently.
This vegetable soup can be served with boiled eggs and/cucumbers, for those on a keto diet.
And that's one way to make vegetable soup.
How do you?